When you're looking for an easy way to get your computer working again without added cost, Mad Dog's Computer Valet Door-2-Door pickup and return service is the way to go! Pickup and return are totally FREE.  Services are flat rate just like they  were in our former shop.
Here's how it works 
Contact us (phone, email, etc.) and arrange a time and place for us to meet you to pick up your computer.  It could be your home, office or any other convenient location.

Disconnect your computer.  On desktop computers, we don't need any cords or other accessories.  On laptops, we need the power adapter.

When we arrive, sign the work order and hand us your computer

We'll perform diagnostics to determine the cause of the problem(s) and then contact you with the diagnostic results and estimate for the necessary/requested services for your computer.

When your computer repairs are complete, we'll contact you to arrange the return of your repaired computer.

When we arrive, sign and pay the invoice (CASH or card).

After we leave, hook up your computer and have a good time.
If you need assistance disconnecting your computer, reconnecting your computer or any other services at your location, we're happy to provide them at our regular on-site hourly rates.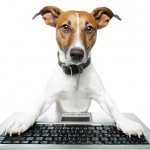 Latest posts by The Mad Dog
(see all)